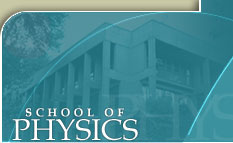 Search Physics
Enter your search string here
and click on Go! to continue
Slides
Yasaman Farzan
In this school, the supersymmetry lectures were given following the slides presented by M. Peskin at TASI 2006 summer school. The slides are available at here.
Majid Hashemi
Mojtaba Mohammadi
Saeid Paktinat
---
© Copyright 2000-2005
Institute for Studies in Theoretical Physics and Mathematics (IPM)
All rights reserved. Please submit your comments or questions here, or contact Webmaster.