Yasaman Farzan

School of Physics<![if !vml]>
<![endif]>
Institute for studies in Physics and Mathematics (IPM),
P.O. Box, 19395-5531
Tehran, Iran.
Email: yasaman@theory.ipm.ac.ir
A brief scientific autobiography

In 1369 H. Sh., I entered Farzanegan (Tizhooshan) high school in Tabriz. In 1372 H. Sh., I participated and succeeded in the internal physics Olympiad. In order to participate in the courses given for students that had succeeded in the exam, I came to Tehran. After one year and succeeding in several exams, I was chosen among the five students of the Iranian team to compete in the international Olympiad, held in Beijing, China. I was the first female student from Iran who had succeeded to be on the team. In China, I received a number of awards which included
1) honorable mention; 2) best girl student; 3) silver medal in theory. In total, our team ranked fifth which was the best ranking Iran had obtained by then.
In 1373, I was enrolled in the Physics department of Sharif Univ. In 1377, I completed my undergraduate studies ranking the first in my undergraduate class. In the same year, I participated in the entrance exam of MSc and ranked the first in this exam which was held nationwide. My MS thesis was entitled "Axions in large extra dimensions". After finishing the MSc course, I went to Trieste, Italy and participated in the entrance exam of PhD program at SISSA (International School for Advanced Studies). I was among the eight students who passed the exam. In first year we passed five courses and only in the second year, we started working on our thesis. I chose neutrino physics as my research area. I was lucky enough to be accepted as a student by Prof. A. Yu. Smirnov who is a leading neutrino physicist. After one year, in 1380, my husband got a Post-doc position at Stanford and I accompanied him to the USA. Before going to the USA, we had correspondence with the head of the theory group of Stanford Linear Accelerator Center (SLAC), Prof. Michael Peskin. He encouraged me to complete my thesis as a long term visitor at their institute. While in the USA, I kept in touch with my supervisor and wrote more papers together and at the same time I benefited from the outstanding scientific atmosphere at SLAC. In 1383, we returned to Italy and I defended my thesis. I am currently an associate professor. Since Jan. 2007, I am also a junior associate member of ICTP.
To see a brief overview of the activities of our group at IPM, you may visit this homepage.
In 2008, I was awarded with the IUPAP (International Union for Pure and Applied Physics) Young Scientist Prize.
Awards and honors
1) 2008 IUPAP Young Scientist Prize;
2) ICTP junior associate member, 1 Jan 2007-31 Dec 2012;
3) The Khwarizmi youth Award, 2006;
4) Ranking first in the nationwide 98 entrance exam of MSc in physics;
5) Ranking first in my undergraduate class;
6) Winning i) honorable mention; ii) best girl student; iii) silver medal in theory
in the International physics Olympiad held in China in 1994.
List of publication

A list of my publications is available here.

Experiences as an organizer and editor

Since I have entered the physics school of IPM, several steps have been taken to form a high energy phenomenology group at this institute, among which one may list the following activities:
1) In September 2005, a school on the Phenomenological Aspects of the Elementary Particle Physics was held by IPM.
I was the principal organizer of this event. Moreover, in this school I covered neutrino physics. In this regard, I have prepared a pedagogical note written in Farsi. For more information about the school, you may visit the school website.
2) In May 2006, IPM held an international school and conference with the title "IPM school and conference on Lepton and Hadron Physics, IPM-LHP06." I was the principal organizer of this school, too. For more information about this meeting, you may visit the website of the meeting.

3) Following the ``IPM school and conference on
Lepton and Hadron Physics, IPM-LHP06," an electronic proceedings
was published by SLAC econf. I was the editor of these
proceedings.
The proceedings are available at here.

4) In October 2007, our institute held another national school on phenomenological and experimental aspects of
particle physics. I was one of the organizers of this event. I gave five lectures on the MSSM in this school. For more
information, you may visit the school website at here.
5) In May 2008, our institute held its second international school and workshop on phenomenological aspects of
particle physics. I was an organizer of this event, too. For more information, you may visit the school website at here.

6) I am also in charge of arranging the weekly meetings of our phenomenology journal club as well as the monthly informal colloquia.
More information about the seminars in our department can be found in this website.
7) I am in the process of organizing IPM school and workshop on recent developments in
Particle Physics (IPP11), School of Physics, IPM, Tehran, Iran, 4-7 September, 2011
(13-16 Shahrivar, 1390). For more information and registration see this website.

Educational material

Following the phenomenology school that we held in the summer of 2005, I have prepared a pedagogical review of recent developments in neutrino physics in Farsi which is available here.
Course on "Standard Model of particle physics" (Autumn of 1389)
Venue: Seminar room of Farmanie building, IPM;
The audio files and manuscripts are available at this site.
The problem set for mid-term exam as well as their solutions are available here. (Solutions by Mr Amin Rezaii)
Notice: The lecture series is over.
In the following, a list of exercises suitable for PhD qualification exam is given.
1) Exercise for qualification exam of Sharif University, Spring of 1387 H.Sh., (2008 A.D.)
The question in Farsi; in English designed by me;
The solution by Arman Esmaili (my PhD student)
Had you any comments on the text or the questions, please do not hesitate to contact me via email: yasaman@theory.ipm.ac.ir.
Hobby
I enjoy writing stories based on my own observations. In the following you may find some of the stories that I have so far written. You may access them by clicking on each item.
1)داستان سارا، داستاني خانوادگي-تاريخي كه در تبريز اتفاق مي افتد.
2) حكايت اسرار گنج دره جني به روايت منجوق
3) سربازان كوچك
4)  رستم و سهراب، چند هزار سال بعد
5) بيژن و مايكل
Environmental concerns
I consider myself an environmentalist and believe all of us have a responsibility to raise awareness on environmental issues.
You may read more about my concerns and suggestion for protecting the environment in this article.
<![if !vml]>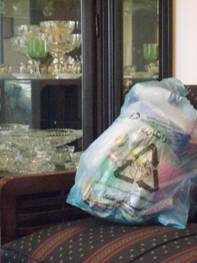 <![endif]>
BLOG
I regularly write in my blog under pen name Monjoogh which means bead or artificial pearl.
Humanitarian Cause
I am an enthusiastic supporter of child foundation (English site, Iranian site, German site).
Last update: March, 2011