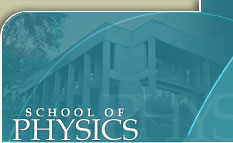 <%@ include file="/peoplemenu.jsp"%>


<%@ include file="/groupsmenu.jsp"%>



<%@ include file="/seminarmenu.jsp"%>



<%@ include file="/publicationsmenu.jsp"%>





Search Physics
Enter your search string here
and click on Go! to continue
IPM > School of Physics > Conferences > 12th Spring Conference
12th Spring Theoretical Physics Conference
Institute for Studies in Theoretical Physics and Mathematics
11-12 May 2005
The School of Physics will hold its annual Spring Physics Conference, connected the world year of physics 2005, on 11-12 May 2005. The purpose of the conference is as before to present the recent research results of various physics subjects.

Registration Time: 8:30 - 9:00 , on May 11th, 2005
Registration Form (PDF, Doc) (Deadline is passed)
Poster
Organizing Committee
History
Topics
Lecturers
Title of Talks & Voices
Participants
Program (English - Persian)
Photos
Contact Us
---
© Copyright 2000-2005
Institute for Studies in Theoretical Physics and Mathematics (IPM)
All rights reserved. Please submit your comments or questions here, or contact Webmaster.