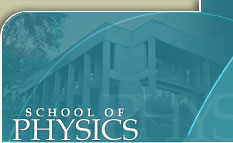 Search Physics
Enter your search string here
and click on Go! to continue
IPM > School of Physics > Conferences > Phenomenological Aspects
Summer School on the Phenomenological Aspects of
the Elementary Particle Physics
Institute for Studies in Theoretical Physics and Mathematics (IPM)
4-8 September 2005

The School of Physics will hold its second School on the Phenomenological Aspects of the Elementary Particle Physics.

The purpose of the school is to introduce some of the fields on the phenomenology of high energy physics that are active in Iran and to build up the necessary background for doing research work on these areas.

Please notice that the lectures will be in Farsi.
- Online Registration Form
- Poster
- Organizing Committee
- Topics
- Lecturers
- Title of Talks & Lecture Notes
- Participants
- Program
- Photos
- Contact Us

Deadline for on-line registration: June 22nd, 2005
---
© Copyright 2000-2005
Institute for Studies in Theoretical Physics and Mathematics (IPM)
All rights reserved. Please submit your comments or questions here, or contact Webmaster.