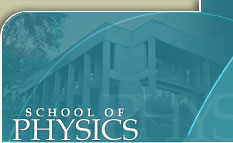 Search Physics
Enter your search string here
and click on Go! to continue
IPM > School of Physics > Conferences >

SCS2011
School on selected topics in
Strongly Correlated Systems
21-22 June, 2011 (31 Khordad-1 Tir 1390)
Strongly correlated systems have emerged as a new paradigm in solid state and condensed matter physics as well as statistical and even biological and soft matter physics.Strong correlations between constituent particles can lead to striking collective behavior or emergent phenomena in many-particle systems as manifested most notably in electron liquids, superconductors topological insulators, quantum spin systems and even ionic liquids and DNA condensates in biological systems. This school will cover some of the basic concepts and methods used in the theory of strongly correlated systems. The lectures are aimed at graduate students and postdocs and may be useful for advanced.

Poster
Program
Title of Talks & lecture notes
Organizers
Speakers
Topics
Participants
Photos
Address of the workshop
Contact Us

Place of Workshop: Niavaran Lecture Hall (No. 1), IPM, Tehran
Registration Fee:300,000 Rls
Deadline for Registration: 16 June 2011
---
© Copyright 2000-2011
Institute for Research in Fundamental Sciences (IPM)
All rights reserved. Please submit your comments or questions here, or contact Webmaster.