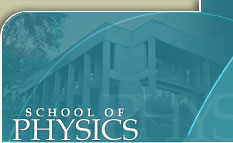 Search Physics
Enter your search string here
and click on Go! to continue
IPM > School of Physics > Conferences > CEW
Workshop on Selected Topics in
Casimir Effect:
from Nanoscience to High Energy Physics
School of Physics, IPM
25 July, 2010 (3 Mordad 1389)
From nanoscience to high energy physics, fluctuation-induced phenomena and the celebrated Casimir effect have been recognized as an important mechanism underlying some of the most striking features of the physical world. This one-day workshop will cover some of the basic concepts and methods as well as a selection of recent research topics studied in the field of fluctuation-induced phenomena. The lectures are aimed at graduate students and research postdocs and may be useful for advanced undergraduate students as well.

Poster
Program
Title of Talks & lecture notes
Organizers
Speakers
Participants
Photos
Address of the workshop
Contact Us

Place of Workshop: Niavaran Lecture Hall (No. 1), IPM, Tehran
Registration Fee: 150,000 Rls
Deadline for Registration: 20 July 2010
---
© Copyright 2000-2005
Institute for Research in Fundamental Sciences (IPM)
All rights reserved. Please submit your comments or questions here, or contact Webmaster.