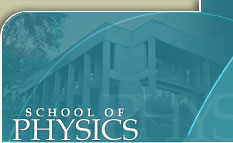 Search Physics
Enter your search string here
and click on Go! to continue
IPM > School of Physics > Conferences > GTIC2011
Workshop on Graphene and Topological Insulators
School of Physics, IPM
19-20 October, 2011

A two-day workshop on recent progress in graphene and topological insulators is planned to be held at IPM, Tehran. This workshop is intended to provide advanced research information about the on-going activities in some of the hottest subjects in contemporary physics and materials science. Graphene is a newly realized two-dimensional (2D) electron system which has engendered a great deal of interest because of the new physics which it exhibits and because of its potential as a new material for electronic technology. Graphene is considered as a perspective material for 'post-silicon electronics', and the first graphene transistors and flat touch-screen panel device have already been created and studied. Being both transparent and highly conducting, graphene has a very high potential for use in optical devices. Furthermore, certain insulators are characterized by boundary properties that are highly robust in the presence of disorder, fluctuations and perturbations. The 2D topological insulator is a quantum spin Hall insulator, which is a close relation of the integer Quantum Hall state. A 3D topological insulator supports novel spin polarized 2D Dirac fermions on its surface.

Poster
Participants
Organizers
Invited speakers
History
Title of Talks
Talks: Audio Files and Notes
Program
Photos
Contact Us

Place of Workshop: Niavaran Bldg, IPM, Tehran
Deadline for registration: 18 September 2011 ( 27 Shahrivar 1390)
Registration fee:350,000 Rls
For those who need accommodation: 100,000 Rls. per night
Email: gtic@theory.ipm.ac.ir

Please note that another condensed matter workshop but with different topics & lectures will be held at IUT "http://physics.iut.ac.ir/wcm2011"
---
© Copyright 2000-2011
Institute for Research in Fundamental Sciences (IPM)
All rights reserved. Please submit your comments or questions here, or contact Webmaster.